Act now! Be an urban farmer and grow your own fresh veggies
The impact of COVID-19 has been devastating for the hospitality industry Chef Paul's French cuisine restaurant was no different, so instead of idling around he took the opportunity to create a new menu. He was aware that the way consumers both eat and spend has changed and people have become more demanding when it comes to food safety and transparency of sustainability. That's why Chef Paul decided to switch to hydroponic veggies for some of his dishes. However, he was not entirely sure which source to choose from to ensure the food safety of the vegetables.

"Hydroponic" basically refers to the way that plants absorb nutrients, which is through water instead of soil. After a visit to local technology start-up Farmacy's indoor farm in Causeway Bay, Paul had a better understanding about the operation of their mobile indoor hydroponic farming machines. Since then, he's decided to regularly purchase produce from Farmacy and even proposed to his boss to create their own farm in the restaurant by installing a smart mobile farm, ensuring the constant supply of fresh ingredients.
Cyberport Community member Farmacy supplies local hydroponic vegetables and herbs. The start-up can also tailor-make mobile farm hydroponic machines according to individual needs. Raymond Mak, Co-founder and Chief Executive Officer of Farmacy explained the concept, "Local produce in Hong Kong is limited due to the shortage of agricultural land," he said, "The logistic costs for importing crops is high, and the freshness and flavour is quickly compromised during transportation. The concept of hydroponic farming is therefore not only environmentally friendly, but can also increase the supply of fresh local crops."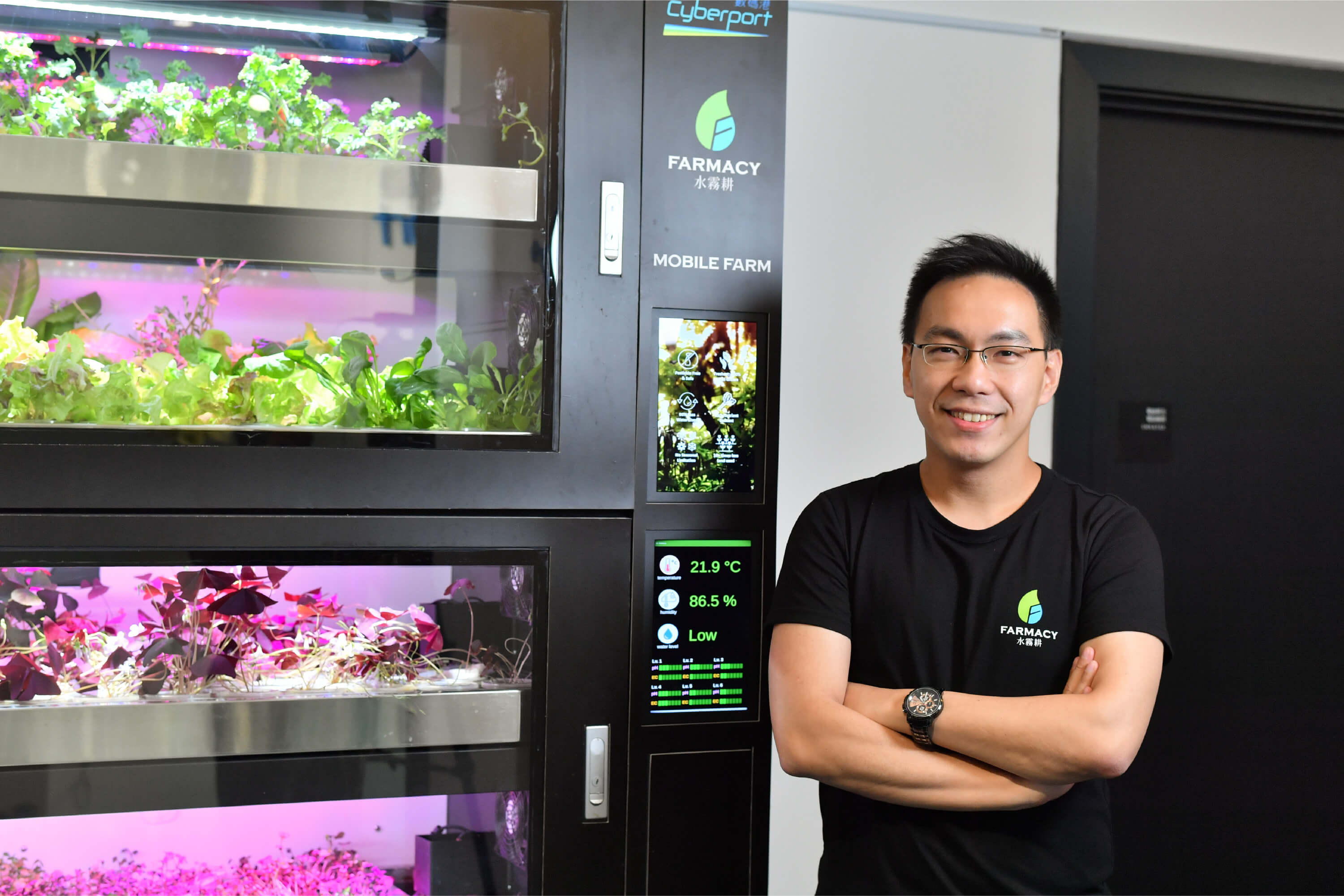 The smart mobile farm device developed by Farmacy is less than two square metres in size, but boasts an annual production of 3,500 plants, equivalent to the output of a 100 square metre outdoor farm. Yet, you can actually save more than 1,600 litre of water per year. In addition, the smart mobile farm can save running costs by 20 percent and reduce 70 percent CO2 output, versus traditional soil-based agriculture. These significant results are achieved by full remote monitoring and control. The smart mobile farm is compatible with the IoT technology to automatically control luminosity, air, pH and nutrient values, so that crops can be grown throughout the year even when it is out of season. Meanwhile, the cloud-based agricultural platform consolidates and analyses the data of each crop, to help improve and accelerate the future growth of plants.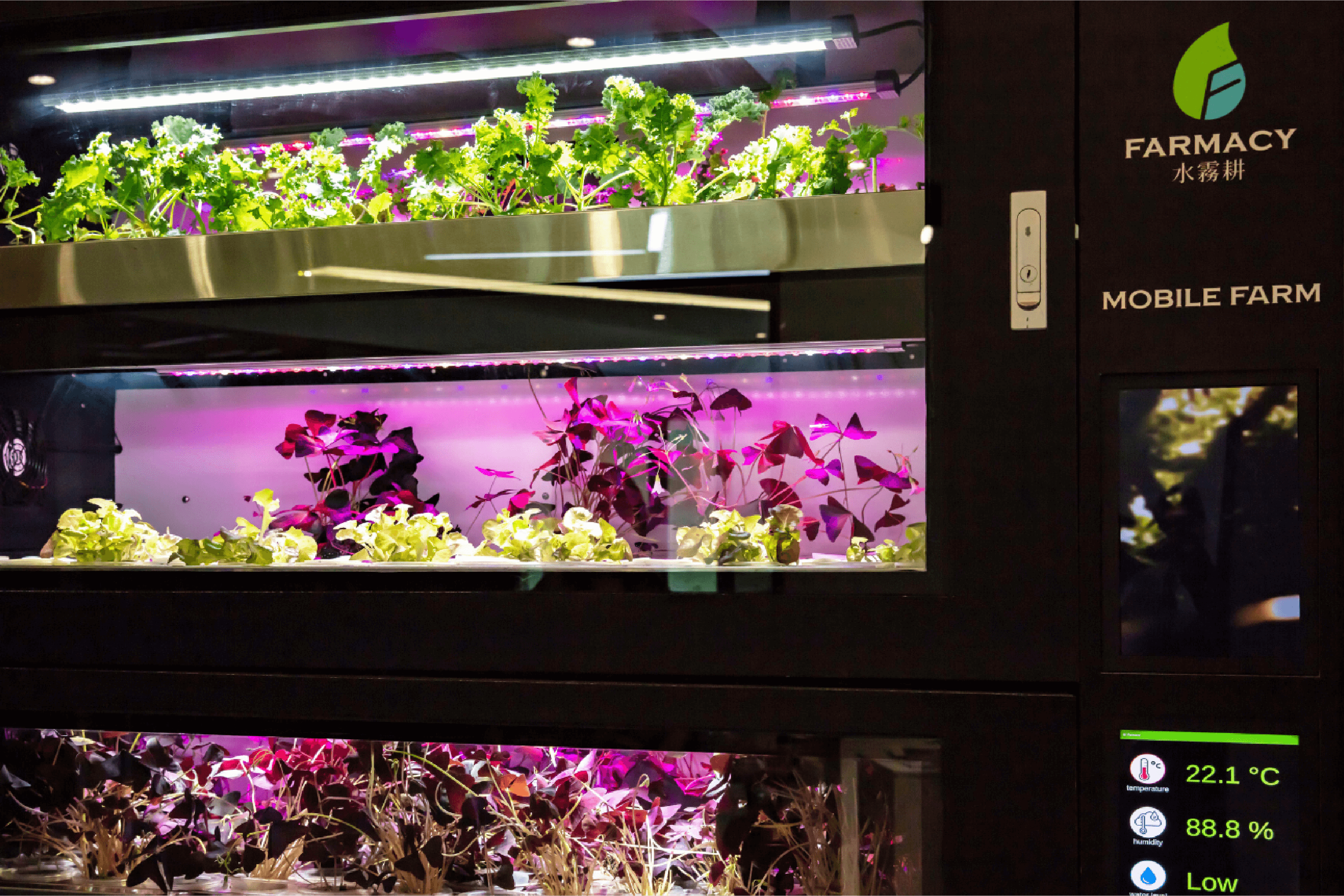 This truly ground-breaking farming technology cuts down lengthy supply chains to allow easy access to fresh produce, rich in both nutrients and in flavour. Raymond mentioned that Farmacy is currently working on a built-in smart mobile farm for a 5-star hotel in Hong Kong. Additionally, a Thai supermarket is planning to replace their traditional vegetable display stands with the smart mobile farm to be able to offer fresh produces 24/7.
Quick facts
The smart mobile farm is a closed ecosystem that can accomodate more than 100 premium varieties to supply fresh produces all year round.
The electricity consumption is low, a 320W power plug is already enough to support the smart mobile farm.
Company Profile
First in Asia, Farmacy is a farming technology firm creating smart mobile farms in urban cities, which allow supermarkets, restaurants, hotels and households to grow their own high-quality, healthy, nutritious and affordable produce. Farmacy also creates a unique experience for customers of retailers and F&B industry to be able to hand-pick the freshest, premium quality, and most nutritious green produce.