A visual and acoustic treat inside a single wall panel
Patrick has always been a hard-working person. After years of working in the bank industry, he was finally able to afford his very own apartment of 400 sq. ft.. However, like many other salaried people, Patrick had to work from home under the epidemic. It was then that he realised his home wasn't feeling at all very homey.

Then he thought, a high-end audio system would add just the flavour he needed! Yet, he had reservations as a full-fledged system would heavily compromise the interior space. Confused, Patrick found himself wandering the internet for a solution, and lo and behold, he found the perfect solution to his predicament: a sleek picture speaker hybrid panel called VisualSonic developed by local start-up Digital Oasis.

A beautiful marriage between art and technology, while the striking wall piece appears to be a simple painting, it actually contains a high fidelity sound system. Patrick could also take up the company's custom service, allowing him to use any image he desired to tailor the visuals to his liking. Soon enough, Patrick finally felt refreshed in his lovely newly decorated home.
"We believe a home is the vital retreat of one's personal life. Under the epidemic, many people now have to work and study from home. So, today's homes in reality play multiple roles: it could be an office, a school, a playground, or even a drinker's pub — all at the same time! The comforts of a home has never been as important," said Stephen Lam, Founder and Chief Executive Officer of Digital Oasis, a member of the Cyberport Incubation Programme.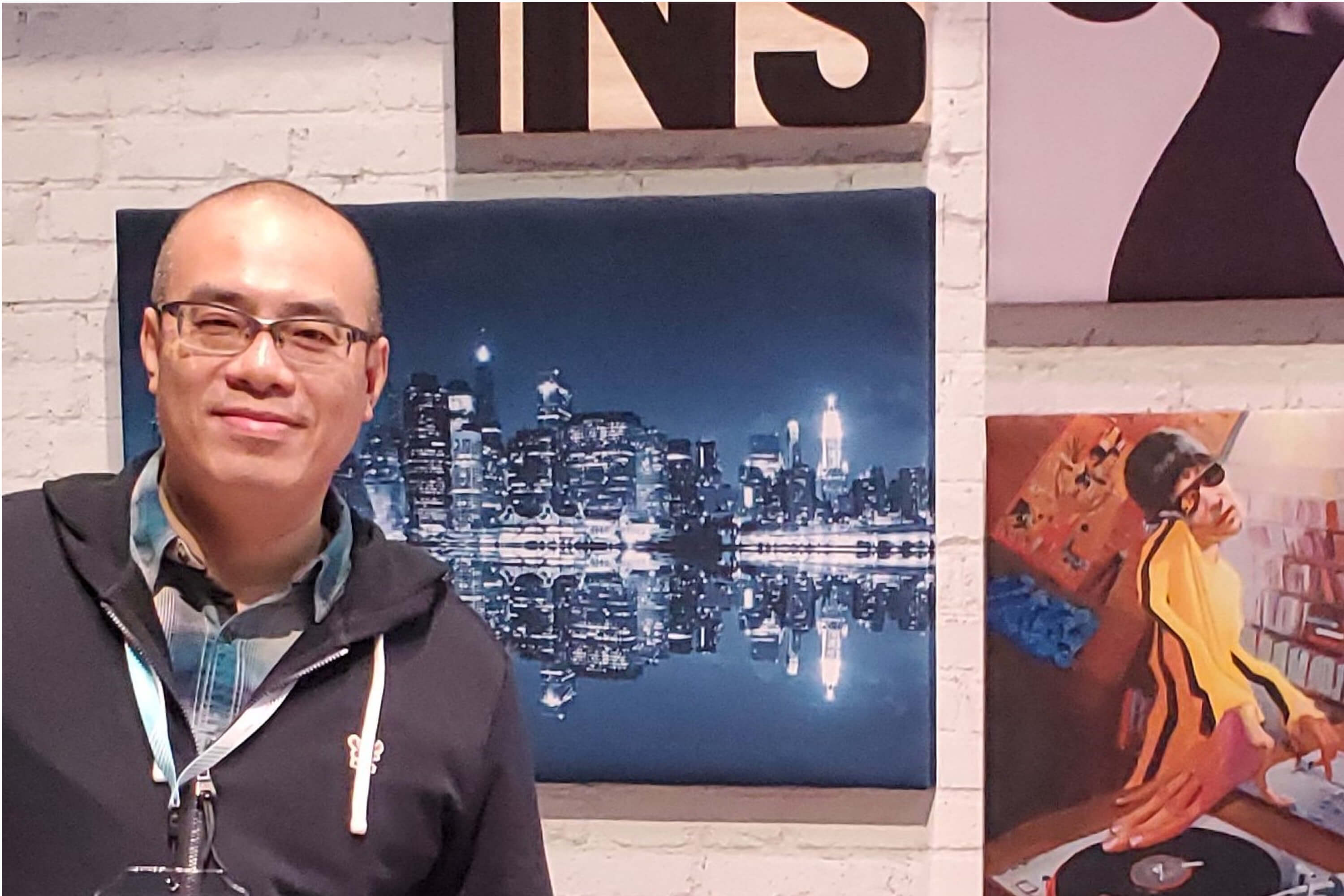 COVID-19 has brought forth the 'new normal' of working from home. It's been noted in research that, by 2025, the global home refurbishing business could reach US$800 billion. By using its patented technology, Digital Oasis blends hanging art and speakers into VisualSonic, as if to hang a smart audio system on the wall. Not only does this cutting-edge new product save space, it also offers users both top-notch visual and audio enjoyment.
The VisualSonic system measures a mere three-centimetre-thick, and weighs only about two kilograms, not too different from usual hanging art pieces. The system commands a retail price starting from US$259. Thanks to the ultra-thin sound vibrators and a picture panel forming a patented resonance sound system, the VisualSonic's audio performance commands a wide sound range between 150Hz to 20,000Hz, offering a powerful, yet high-quality rendition of audio files.
Once the speakers' rechargeable battery is fully charged in six hours, they will provide users a full 25 hours of non-stop audio enjoyment. Via Bluetooth, the device can be paired with smart phones or computers, and with two panels, the devices can sync up to offer excellent stereo sound. Through dedicated mobile applications using augmented reality (AR) technology, users can use smart phones or tablets to turn their static paintings into videos, greatly enhancing your home's entertainment capabilities.
Quick facts
VisualSonic has worked with various artists and designers to create special edition products, such as the local franchise Storm Riders limited edition series and the Japanese Ultraman series products.
VisualSonic has an international sales networking covering the markets of Hong Kong, Macau, Mainland China and Taiwan, in addition to Japan, the UK and the US.
Digital Oasis plans to release the VisualSonic 8-speaker 3D sound system in 2023.
Company Profile
Digital Oasis was established in 2015 with a vision to interpret and actualise new creative trends in consumer electronics. The company has set out to find new ways for humanity to interact with technology. In addition to the VisualSonic, the company's future product range includes the intelligent voice hub Dai3mini, artistic home décor device ElementsX and smart voice control system Sound.AI.
Media