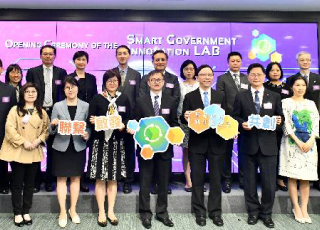 Hong Kong's Smart Government aspirations took a big step forward last month with the opening of the Smart Government Innovation Lab (Smart LAB) at Cyberport.
The goals of the Lab, located at 5/F, Cyberport 1, are to "Connect, Inspire, Co-create".
The Lab established by Office of the Government Chief Information Officer (OGCIO) connects the service needs of different government departments with the quality, innovative solutions or product suggestions from start-ups and SMEs.
It showcases technologies that have undergone or are undergoing proof-of-concept testing to inform and inspire government departments of the effectiveness, limitations, and possibilities of different solutions.
The Lab also facilitates government departments to co-create innovations and formulate effective procurement and implementation arrangements.
In addition, regular technology forums and thematic workshops will be organised to foster exchange and sharing between departments and the industry.
These include the "Smart City Infrastructure" forum on 26 June at Cyberport, and another forum that is tentatively scheduled to be held at the Hong Kong Science Park in September.
The website for Smart LAB has also been launched to list the service needs of different departments and the I&T solutions offered by industry players, providing an easy channel for I&T suppliers to submit technology proposals for the specified needs and government departments to search for suitable solutions and potential suppliers.
All of this is set to promote the adoption and application of I&T solutions to enhance city management, streamline operations, and provide better public services to the citizens.
Technologies on display include anti-bot solutions, smart sensing technology and geographic information services, video analytics for monitoring traffic conditions, virtual reality technologies for assisting the construction design and planning, along with others like IoT, blockchain, AI, cloud, big data solutions and many more.