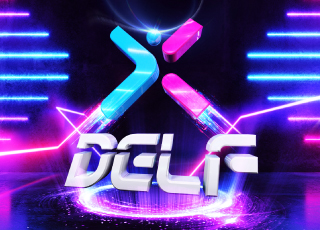 The Digital Entertainment Leadership Forum (DELF), Cyberport's annual signature events and Hong Kong's first-ever esports themed international conference, will be staged on 16-18 July to present the most innovative evolution of digital entertainment.
Echoing the theme of "Powering Up a Vibrant Esports Ecosystem", a star-studded cast of leading esports industry icons and influencers will speak at the first day's main forum of DELF, including Leader from Razer; Yuya Tanida, Representative Director & CEO of WellPlayed Inc.; Cheolhag Kim, Secretary General of Korea eSports Association; Sam Cooke, Founder of Esports Insider; Cecilia Yau, Entertainment & Media Partner of PwC Hong Kong; Eduard Castell, Delegate of LaLiga Global Network Hong Kong, among many others.
The speakers will look into the thriving esports ecosystem, examine the industry landscape, market trends, opportunities, and identify the key challenges that Hong Kong will face as it pursues its esports aspirations.
More topics related to technologies, entrepreneurship, and talent cultivation of this booming industry will also be explored during the afternoon breakout tracks.
A spotlight of DELF will be the unveiling of the much-anticipated esports venue. To celebrate this milestone and showcase the capabilities of this state-of-the-art esports venue, DELF will host a series of live celebrity invitational games featuring renowned international and local esports teams to battle in the hottest games including League of Legends, FIFA and Street Fighter, promising to excite esports enthusiasts and newcomers alike. Backstage tours will also give attendees a taste of the behind-the-scene actions that put together every mind-blowing esports tournament.
Alongside insightful forum discussions and celebrity games, DELF will also present experience zones with the hottest VR, AR, robot and driving games presented by Sony, HADO, VAR BOX, MAD Gaze, Godzpeed, GJS and more for all attendees to try out. What's more, a handful of most promising esports and gaming start-ups from Cyberport and Hong Kong will also showcase their latest games on offer at the Start-up Zone for unlimited immersive experience!
But that's not all. DELF will also kick off DE*Spark, a month-long digital entertainment extravaganza that features a series of large-scale and highly anticipated esports and gaming competitions, exhibitions and seminars.
These include Asia's first Blockchain Gamer Connects (BGC) in Hong Kong powered by Cyberport; the e-Sports & Music Festival Hong Kong, ACGHK, and the League of Legends Campus League 2019 Finals (Secondary & Tertiary Division), among many others.
In particular, the BGC, a sister conference of the world-renowned Pocket Gamer Connects series, will explore what are the potentials of blockchain revolutionising the gaming industry. Possibilities include unlocking dApps (decentralised applications), enabling secondary markets for in-game digital assets, and creating new models to reward players.
"Cyberport has very high hopes for the esports industry," said Terence Leung, Senior Manager, Esports and Youth Team. "We see esports as a game-changing industry capable of generating new opportunities for our youth, engaging and cultivating digital entertainment talent, and creating new values for a multitude of roles and facets in the ecosystem, all while adding fuel to our digital tech development."
"All of these upcoming e-sports events will serve as a perfect prelude to Cyberport's full-throttle push of this exciting new industry in the months and years to come."
Register now for front-row seats and enjoy the early bird offer!