Putting the "social" back in social distancing for the elderly
Despite being a proud grandmother with many grandkids, Granny Wong sat in her room, all alone on her 80th birthday.

With the coronavirus outbreak showing no signs of ending soon, visitations in elderly care homes have been deemed too dangerous. The normally cheerful Granny Wong couldn't help but feel sad and lonely on her important milestone.

Suddenly, a familiar voice approached her room. She instantly recognised it to be her beloved 5-year old grandson, Jack. The door slowly swung open, but there was no sight of Jack. Instead, the care home's robot assistant Temi Medic appeared, with its "face", an HD LED screen, showing Jack singing 'Happy Birthday'. Temi Medic then presents Granny Wong with an amazing candle-topped cake. "HAPPY BIRTHDAY GRANNY!", little Jack led Granny Wong's children to yell in unison.

Granny Wong made a wish and blew out her candles. Her frown was turned upside down as her deepest wish had been granted: to see her loving family today.
Alvin, Cofounder of Cyberport Community Member Zunosaki says, "We're delighted that people like Granny Wong are able to celebrate their birthdays with family with a little help from the smart care robot. Since the COVID-19 outbreak, elderly care homes have been considered especially high-risk facilities. So we wasted no time to upgrade our robot into 'Temi Medic' to connect residents of care homes with their families through technology — while also lessening the burden of employees in these facilities."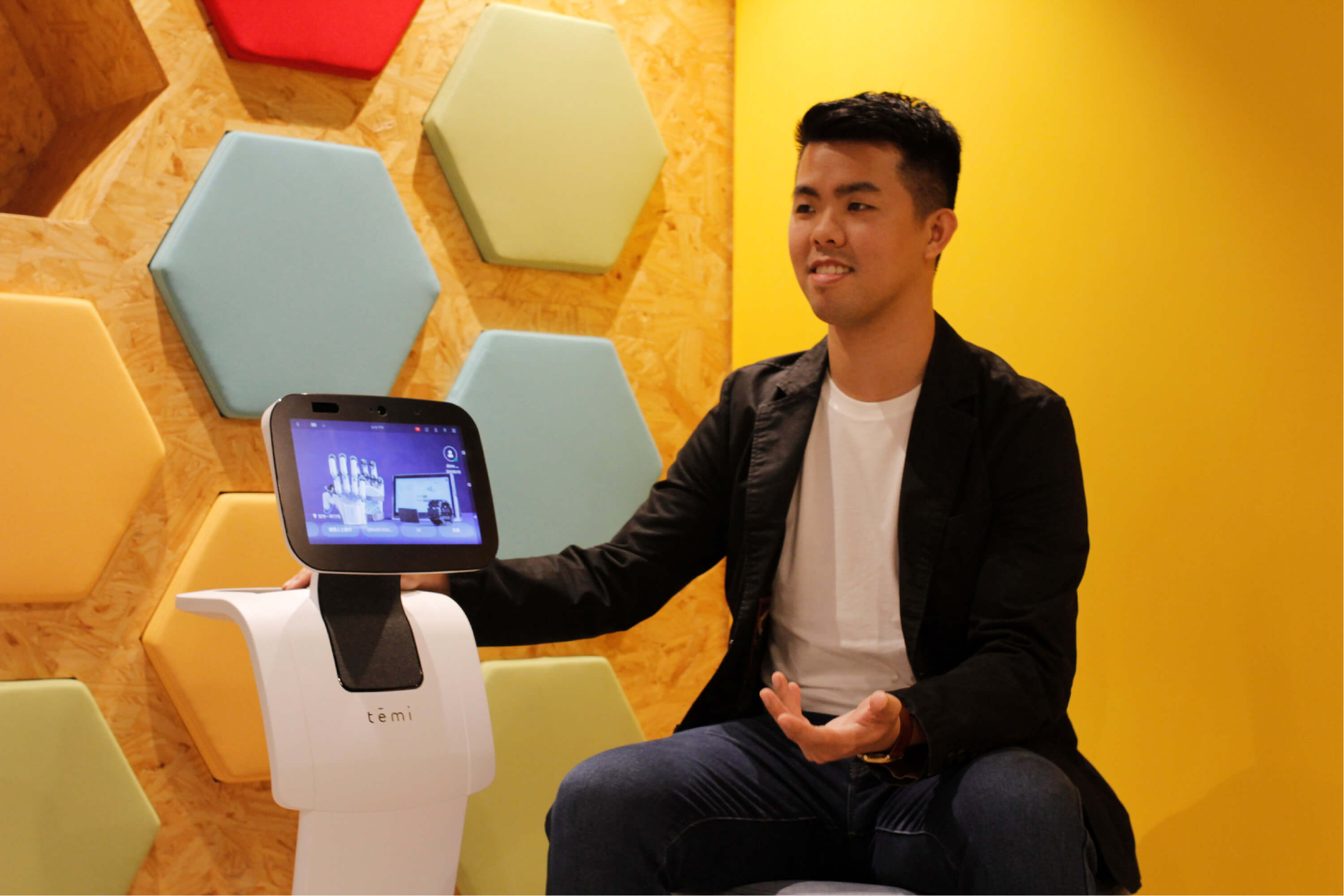 Alvin's team's efforts include installing localised software and hardware on Temi Medic, allowing the robot to respond to voice commands in Cantonese, while also giving it the additional function as a mobile robot assistant, to guide visitors and residents around the care home.
Equipped with a high-definition camera and video conferencing capabilities, Temi Medic makes remote visits easy whenever stringent social distancing measures are required. In addition, the care robot is well-equipped to play the role of a healthcare assistant, responsible for a range of auxiliary roles such as blood pressure checks, and body temperature and oxygen level measurements. It can also carry and deliver items such as water bottles to a predetermined locations.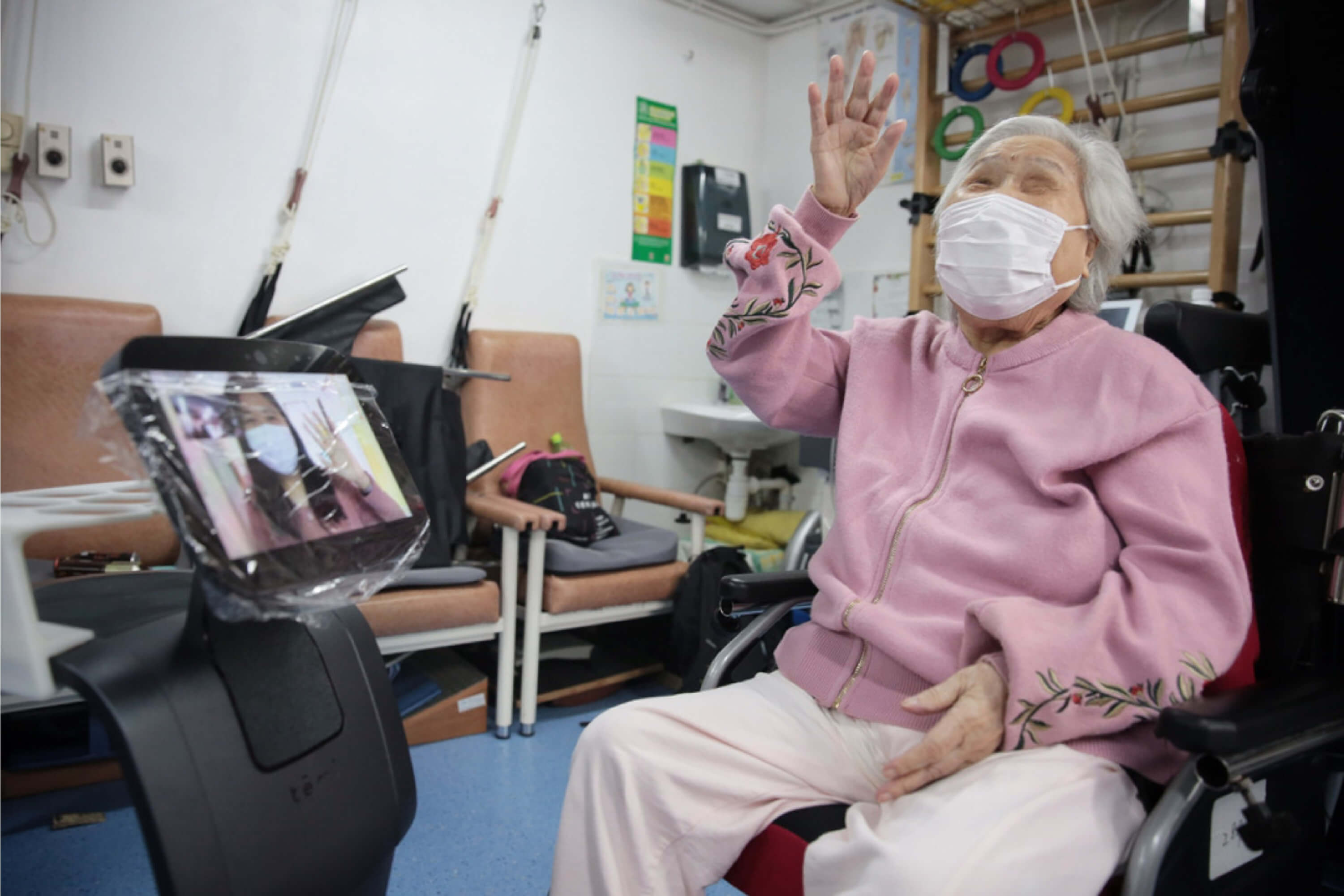 What's more, Temi Medic is also capable of patrolling care homes, freeing up valuable staff time that is spent providing care for residents instead. Last but not least, Temi Medic's facial recognition capability is able to recognise and locate residents who have visual impairment or dementia throughout the facility, further alleviating the staffs' burden and keeping all residents safe.
Quick facts
Zunosaki introduced Temi into the Hong Kong market from its Israeli developer last year. Temi was the world's first smart home robot equipped with a high-definition camera and artificial intelligence.
Temi Medic has been adopted by over 30 care homes across the city since the outbreak.
Company Profile
Local start-up Zunosaki (HandyRehab) was established in 2015 with the aim of developing robots with excellent cost-performance ratio to tackle the needs of the healthcare sector, and help people with impaired mobility. After years of research and development, it has released affordable robotics for rehabilitation. HandyRehab, which is a clinically proved and patented technology designed to help stroke patients in their recovery, where they can even eventually enjoy up to 90 percent of an individual's original physical ability.